INDUSTRIAL SAFETY PRODUCTS
Industrial safety products play a crucial role in safeguarding workers and equipment, ensuring a secure and compliant working environment.
Barriers and guarding solutions are vital for creating safe workspaces by preventing access to hazardous areas and protecting both employees and valuable equipment from potential risks.
INDUSTRIAL SAFETY PRODUCTS: BARRIERS AND GUARDING SOLUTIONS
Safety Partition
Safety partitions are essential components in industrial and commercial environments, providing physical separation to enhance safety and organization within workspaces.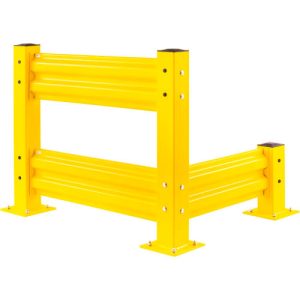 Forklift Guardrail
Forklift guardrails are protective barriers that help prevent forklift accidents by creating a physical barrier between pedestrians, equipment, and hazardous areas in warehouses and industrial settings.
Column and Rack Protection
Column protection systems are crucial safety measures that shield building support columns and rack posts from damage caused by collisions with vehicles or equipment, ensuring structural integrity and reducing repair costs.
Collision Warning Systems
Sentry Collision Warning Systems are cutting-edge solutions that provide real-time alerts to operators, significantly reducing the risk of collisions and improving safety in industrial environments.
LET US HELP CHOOSE THE RIGHT INDUSTRIAL SAFETY PRODUCTS
FOR YOUR NEEDS
Choosing the right safety partition, forklift guardrail, column and rack protection, and collision warning systems is critical to creating a safer and more efficient workplace. At The Material Handler, our team of experts is here to guide you through the selection process, ensuring that you make the right choices to protect both your employees and valuable assets.
With over a decade of experience serving Southern Ontario, we understand the unique needs of different industries and can provide tailored solutions to match your specific requirements. Trust The Material Handler to help you safeguard your workspace and enhance overall safety while minimizing risks and accidents.
Monday-Friday: 8a.m. – 6p.m.
Saturday-Sunday: Closed