PALLET FLOW RACKING SYSTEMS
Pallet Flow Racking is a gravity-driven storage system designed to optimize warehouse space and improve inventory rotation.
By using inclined rollers or wheels, it allows for easy first-in, first-out (FIFO) access to palletized goods, making it ideal for businesses with high turnover or perishable products.
Pallet Flow Racking For Maximum
Storage Density
Pallet Flow Racking is the go-to solution for businesses aiming to achieve maximum storage density in their warehouse. It operates on the principle of gravity, using inclined rollers or wheels to facilitate the effortless movement of pallets, making it perfect for first-in, first-out (FIFO) inventory rotation. This efficient system not only optimizes space utilization but also streamlines the retrieval process, contributing to enhanced operational efficiency and cost savings.
how pallet flow racking works
Pallet Flow Racking operates on a gravity-driven principle, offering an efficient and dynamic solution for warehouse storage. It consists of inclined roller or wheel tracks, strategically placed within the racking system. Pallets are loaded onto the higher end of the tracks, and due to gravity, they automatically flow downward, guided by the rollers or wheels.
This arrangement ensures that the first pallet loaded is the first to be retrieved (FIFO system). As pallets are removed from the front, the next pallet in line gently glides into position, maintaining a continuous and organized flow of inventory. Pallet Flow Racking is ideal for high-density storage and is especially suited for industries with a need for efficient inventory rotation, such as those dealing with perishable goods or high turnover items.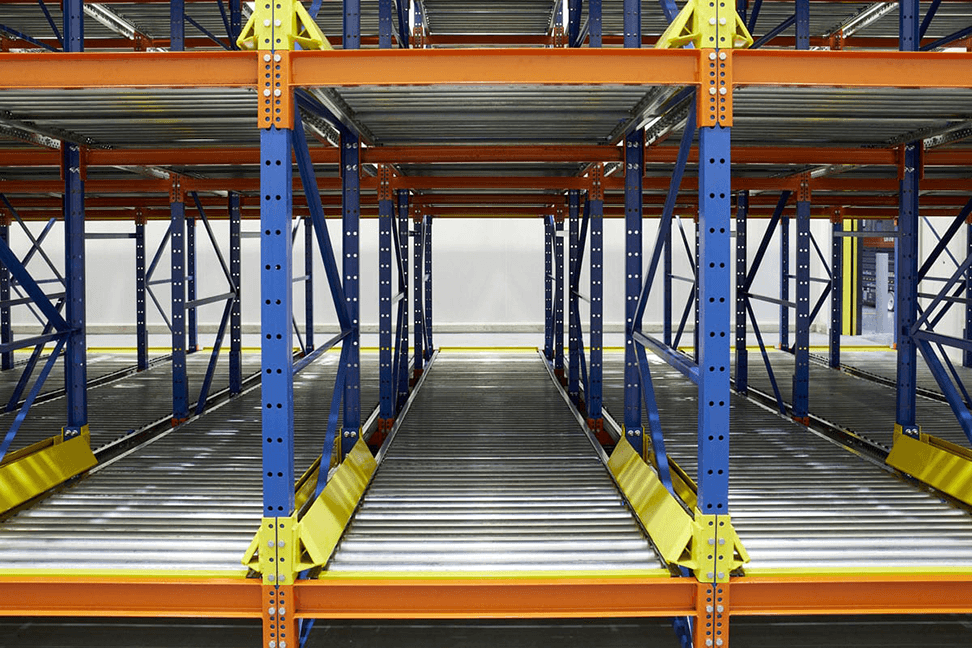 PALLET FLOW RACKING FOR DIFFERENT TYPES OF PALLETS
Pallet Flow lanes provide a versatile design approach. Allowing for the incorporation of either roll tracks tailored for high-quality pallets or full-width rollers capable of accommodating pallets of varying qualities. This flexibility ensures that businesses can adapt their pallet flow systems to their specific inventory needs and pallet types, optimizing both efficiency and cost-effectiveness.
Magnum Wheel Pallet Flow:
Magnum wheels are crafted from exceptionally rugged and reinforced resin, boasting a remarkable resilience even in extreme conditions with temperatures as low as -40°F. They are engineered to withstand the harshest environments without the risk of splitting or cracking, resulting in substantial savings by avoiding frequent replacements and minimizing downtime in pallet-racking systems. Furthermore, Magnum wheels are substantially wider than conventional polycarbonate-based wheels, ensuring superior tracking of heavy or challenging pallet loads while accommodating double the load capacity. The inclusion of robust, shielded bearings in this distinctive product design further enhances the longevity of the wheeled tracks.
Steel Skate Wheel: Our high-performance steel wheels are engineered to excel in warehouse environments, demonstrating exceptional durability. The galvanized finish offers robust protection against rust and corrosion. These wheels are typically specified for use in shallow depth lanes, ranging from all pallet sizes 2 to 5 pallets deep.  Not to mention, they are compatible with pallet racking systems from all major manufacturers and weights up to 2000lbs.
Pallet Flow Accessories: Mounting Brackets, Flow Entry Guides, Ramp Stops and Floor Mounted Pallet Flow Supports
Full & Split-Roller Pallet Flow Rack:
Mallard's full roller pallet flow rack offers unparalleled flexibility, making it an ideal choice for users dealing with diverse pallet sizes and varying warehousing footprints. In today's dynamic business landscape, where vendors frequently adjust pallet configurations to optimize equipment and shipping costs, the adaptability of Mallard's full-width pallet rack roller lanes shines.
For applications requiring increased capacity or when dealing with heavier pallets that may cause slight deflection in full-width rollers, the split-roller pallet flow rack is the preferred option. This configuration is also well-suited for accommodating exceptionally wide or cumbersome loads. The number and spacing of flow rails are tailored to the specific dimensions and weight of the load, ensuring optimal performance and efficiency.
Pallet Flow Speed Controllers: Mallard speed controllers offer reliable control for a wide range of loads, from lightweight containers to hefty pallets weighing up to 3,000 lbs. These controllers function akin to the braking mechanism found in automobiles. As the pallet or container gains momentum while moving down the lane, the internal gearing mechanism engages, pressing the brake pads against the inner surface of the brake hub, effectively slowing down the pallet or container and ensuring safe travel at a controlled and consistent speed.
   WHEEL FLOW LANES
  SPLIT & FULL ROLLERS
    STEEL SKATE WHEEL
   SPEED CONTROLLERS
    FLOW

 

ACCESSORIES
5 Reasons Why We Need a Great Warehouse Set-up for Good Returns.Warehouse management plays an essential role in the overall operations of a business. A well-run warehouse can help a company succeed and make money, making it a smart investment for business owners. This...
Advantages of First In First Out Inventory Management
First In, First Out (FIFO) inventory management offers several significant advantages for businesses. Firstly, it ensures product freshness and quality by prioritizing the use of the oldest inventory first, reducing the risk of product expiration or obsolescence.
Secondly, FIFO enhances inventory accuracy, making it easier to track and manage stock levels effectively. Additionally, it supports better demand forecasting and minimizes the potential for waste or write-offs due to expired products. Moreover, FIFO can lead to improved customer satisfaction, as it helps maintain consistent product quality and availability.
Overall, FIFO is a strategic approach that not only optimizes inventory control but also contributes to better customer service and cost savings.
PALLET FLOW RACKING INDUSTRY APPLICATIONS
Pallet flow racking is a highly versatile storage solution with applications across various industries. Some notable applications include:
Cold Storage Facilities: Pallet flow racking is ideal for storing perishable goods such as food and pharmaceuticals in cold storage environments. FIFO inventory management ensures that products are rotated efficiently, minimizing waste and maintaining product quality.
Retail and Grocery Stores: Pallet flow racking is widely used in retail and grocery stores to efficiently manage and display products. It allows for easy access to goods, making restocking and inventory management more streamlined.
Manufacturing and Distribution: Manufacturers and distributors benefit from pallet flow racking for organizing and managing raw materials and finished products. FIFO ensures efficient inventory rotation and reduces the risk of product obsolescence.
High Pallet Count Environments: Industries dealing with a high volume of pallets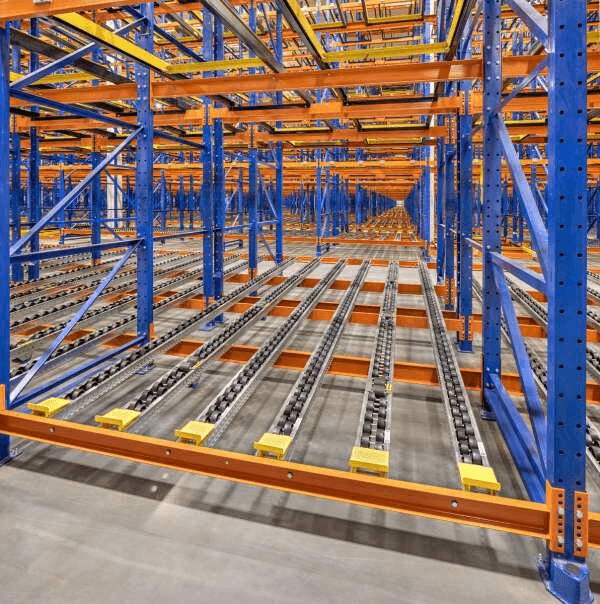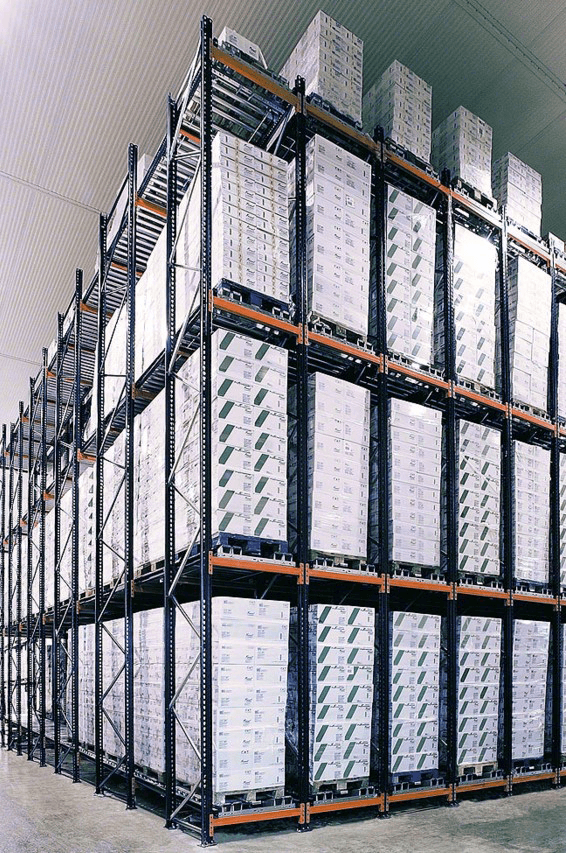 BENEFITS OF A PALLET FLOW RACKING SYSTEM
Pallet racking systems offer a multitude of advantages when compared to alternative handling solutions. A thoughtfully engineered pallet racking system tailored to your production needs delivers several key benefits:
Space Savings: Pallet racking storage systems are capable of accommodating up to 25 pallets per lane, and customized configurations with advanced braking mechanisms can further enhance storage density. By storing pallets back-to-back, these systems reduce the need for extensive aisles, effectively maximizing available floor space. Moreover, pallet racking can be adapted to handle various pallet sizes, eliminating the need for separate handling systems for different products.
Enhanced Productivity: Pallet racking systems streamline the loading and unloading processes, significantly boosting productivity without compromising accuracy or safety. They are especially suited for high-volume operations with fast-moving products. By automatically positioning items for picking, these systems optimize workflows and reduce labor costs, which is particularly valuable during peak activity periods.
Improved Safety: Ensuring the safety of your workforce and minimizing product losses is paramount, and pallet racking systems play a crucial role in achieving these goals. Pallet flow rack systems, in particular, reduce the risk of damage during loading and unloading by freeing up floor space and simplifying the picking process. Additionally, they help prevent on-the-job accidents that could disrupt productivity.
Low Maintenance Requirements: The inherent simplicity of pallet racking systems is a significant advantage for cost-conscious operations. A well-designed system exhibits exceptional durability and demands minimal preventative maintenance. At The Material Handler Inc., our heavy-duty systems feature rugged load-bearing wheels designed for prolonged service life and maximum efficiency.
Discover why The Material Handler is the go-to pallet flow racking specialist in Mississauga, Burlington, Hamilton, and Stoney Creek serving across Southern Ontario, Canada by reaching out to our office today. We're here to assist you in optimizing storage and handling solutions.
Monday-Friday: 8a.m. – 6p.m.
Saturday-Sunday: Closed